The field of artificial intelligence is an important building block for many companies and the entire German economy to remain internationally competitive. AI offers companies the opportunity to offer new products on the market and to simplify and automate existing processes. Image processing in particular plays an important role for manufacturing companies: neural networks are used in optical quality control that can precisely determine material defects and provide this information automatically to downstream systems.
With the right approach, you can use sophisticated algorithms to exploit the great potential and opportunities offered by the use of artificial intelligence in production.
Even more successful through the use of AI
A study commissioned by the Federal Ministry for Economic Affairs and Energy (BMWi) on the potential of artificial intelligence in the manufacturing sector in Germany shows that around 25% of large companies and 15% of SMEs use AI technologies at least to a small extent. A rate that companies should increase in order to become even more successful, because for SMEs in particular, AI can provide access to higher process speeds and lead to new opportunities in quality inspection. In particular, machine learning, a sub-area of artificial intelligence, can offer great savings potential in production. For example, an AI-based system can achieve a detection rate of up to 100% in the detection of defects in production pieces – More than a human working under monotonous steps ever could.
A major obstacle to the introduction of AI technologies is often the lack of expertise, high set-up costs and training efforts for industrial equipment and robots. At first glance, these high costs seem to be an obstacle, but the economic efficiency can be increased considerably in the long term through automation. But: AI systems pay for themselves after two years at the latest and thus contribute significantly to the success of a company. To approach the step of automation in a future-proof way and to use the many opportunities, it is advisable to involve experts in the respective field to develop a project, as well as to follow these five basic steps.

1. IDENTIFY THE PROBLEM
In the first step, you should ask yourself: "Is the problem even suitable for AI?" Some problems cannot be solved by AI at all or only with difficulty and require other approaches. Projects for which the necessary data acquisition, storage and processing is possible, such as image processing and object recognition, on the other hand, are suitable for AI. You should also assess the upcoming project for relevance and complexity.
2. CHECK DATA AVAILABILITY
Accordingly, the second step is to validate data availability. A digital infrastructure is a prerequisite for solving problems with AI. Therefore, make sure that current processes and systems are able to capture and process the data for implementation.
3. MODELLING A SOLUTION
Once the preparations have been completed with these two steps, the first approaches to a solution can be modelled. Here it is a decisive advantage to involve experts and specialists in the field. Only through expertise and continuous feedback can you confirm your understanding and ensure that all parties have the same goal.
Solution development includes a project definition with milestones to be achieved, data collection and prototyping. If there is uncertainty about whether a solution can lead to the desired success of the project, conducting a proof of concept is a good option.
4. IMPLEMENTATION AND AUTOMATION
Once a solution to the project has been modelled, automation can begin. Here, a limited roll-out of the application in one facility for the time being is advisable in order to get ongoing feedback from users in the field. Do not be put off by challenges or complications, as these can always occur in new application fields. It is best to seek advice from experts in the field.
5. EVALUATION AND UPDATE
The final step is to continuously evaluate and, if necessary, update the newly introduced AI technology. This process should be carried out in parallel with ongoing operations. Having first limited a roll-out, you can now automate further systems and projects after successful test runs.
These five steps provide a basic orientation for introducing AI into production. Of course, each project is unique and requires its own approach. However, the following applies to all of them: that we address the topic of AI, because it offers new opportunities and possibilities that will determine the competition in the future.
Find out more about automation and projects using our customer cases as direct examples: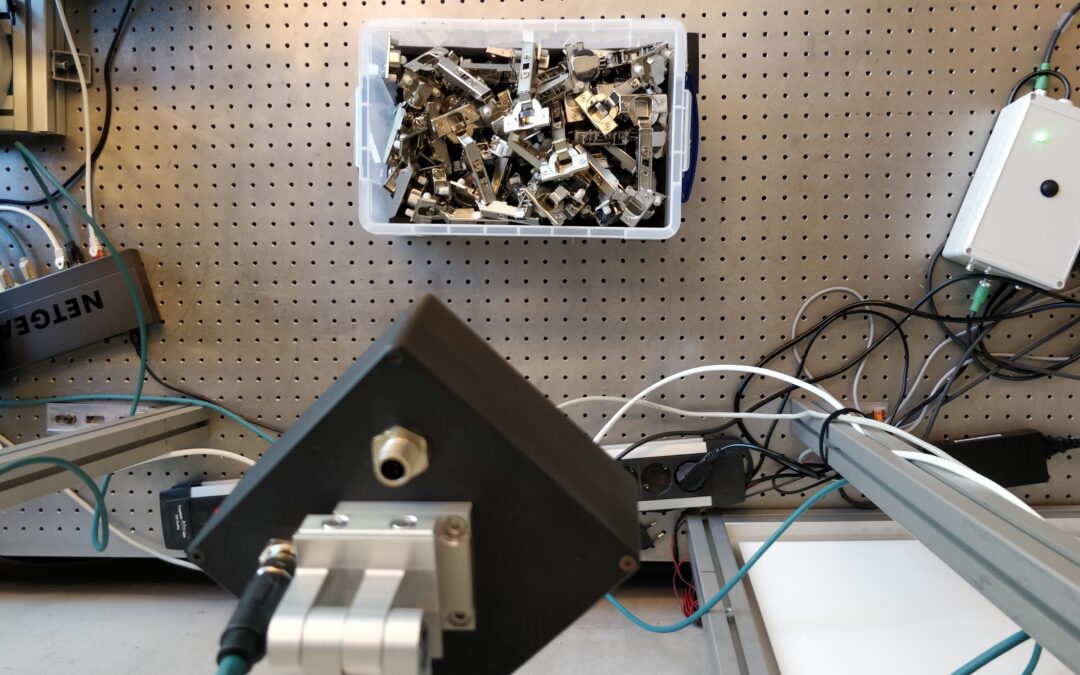 The challenge: Shiny door hingesBox with shiny door hingesCan Door hinges be gripped automatically? For a customer, we were asked to test small metal hinges that tend to snag. Two aspects of bin picking in particular were at issue: Can the shape and surface of the...
read more