With the OPC UA communication standard, interconnected production should also become possible for industrial machine vision. In this article we take a closer look at what exactly lies behind it and what advantages OPC UA brings for vision and automation.
Even if it's been a while: Do you still remember your last holiday in an exotic country? Most likely you didn't speak the local language and struggled to make yourself understood. An exhausting and frustrating affair!
The situation is similar for industrial machine vision, machinery and Industry 4.0 applications. There are countless manufacturer-specific communication protocols, each with individual characteristics.
Uniform communication standard via OPC UA
But where we learn English to be able to communicate almost anywhere in the world, production facilities have long lacked a common language. Accordingly, early Industry 4.0 relied on interpreters, each of whom had to laboriously learn another language. If a third communication programme was added, the entire work started all over again – with the additional disadvantage that the translation effort was now doubled or important information was lost due to a double data translation.
Not a good starting position for the connected and automated production of Industry 4.0. And certainly not for industrial machine vision – after all, in most applications it is used as a support for robots and plants and must pass on correspondingly extensive information. Lack of efficiency and complex, individual data solutions made the situation even worse.
It is therefore not surprising that already in the early 2000s, considerations were made to remedy this deficiency. For example, the OPC Foundation presented the first version of its new open communication standard OPC UA (Open Platform Communications Unified Architecture) as early as autumn 2006.
OPC as the basis of Industry 4.0
The introduction of this new communication protocol was equivalent to a bang for the industry's buck: OPC UA is not only able to secure communication in a connected production fast, easy and reliable, but also to provide machine-readable semantic descriptions of the transported information at the same time.
Real-time data transport
The consortium thus created an important basis for making connected production a reality in the coming years. This is because OPC UA can be used in manufacturing across all data levels in real time. That enables communication on an Ethernet basis – an infrastructure that is often even already in place.
In addition, OPC UA works completely manufacturer-independent and platform-neutral. The data can also be clearly interpreted at any time due to the machine-readable semantic descriptions. Data cannot be read out at the wrong time or by the wrong agent. Thus, the communication standard opens up additional scope for companies in the design of their production halls.
Security by Design
Furthermore, the communication and information layer relies natively on data security. In times of digital blackmail attempts, this is an important basic requirement. Also relevant: Thanks to data transport using the TCP/IP protocol, information is transported reliably – and with minimal bandwidth. The system automatically encrypts, signs and authenticates transmitted data. Even interferences or short bandwidth failures cannot harm OPC UA, because it buffers data for this case.
While the use of fieldbuses was previously standard in the manufacturing industry, OPC UA is now taking over. And rightly so: although fieldbuses are also considered "standardised", according to IEC 61 158 there are 19 different fieldbus standards – all of which are incompatible with each other. OPC UA, on the other hand, is completely compatible with one another. The most common configuration here is client/server communication. Here, each client (e.g. robot) sends a request to the OPC UA server and also receives a response directly from it. To ensure this connection, OPC UA has a "heartbeat" – a permanent connection monitoring.
The advantages of OPC UA can be transferred directly to Machine Vision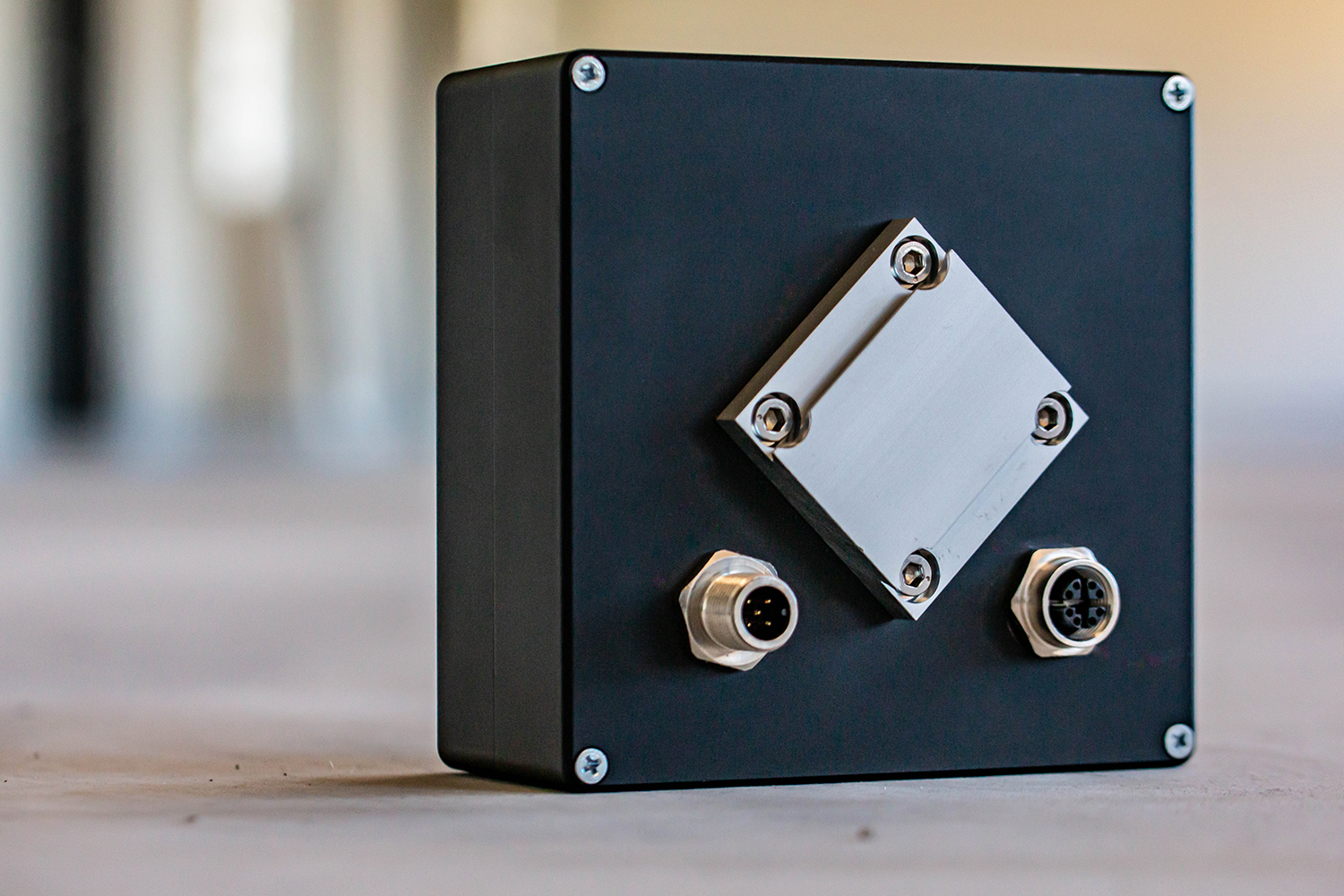 Ports of the compact LumiScanX 3D vision sensor – Can be easily integrated into OPC UA thanks to Ethernet connection
All these advantages mean that industrial machine vision has also found great interest in OPC UA. Reliable, fast data transmission without loss of information is a great benefit for time-critical vision applications. Accordingly, the open communication standard can also be used across the entire range of image processing tasks:
Configuration
Controlling
Communication with other machines and robots
OPC UA thus offers more companies easy access to machine vision without having to add a new data standard to their peripherals. Dealing with an already familiar communication standard can also help lower barriers to entry and avoid critical knowledge gaps.
In order to fully exploit these opportunities and optimally adapt OPC UA to the requirements of industrial Machine Vision, the OPC Foundation is further developing the standard together with the VDMA. The VDMA specification VDMA 401100-1 OPC UA for Machine Vision already contains a standardised information model. This should make it easy to implement individual vision requirements in a comprehensible way and cover the entire spectrum of Machine Vision.
OPC UA – Milestone for Connected Machine Vision
The use of OPC UA therefore represents an important milestone for intuitively usable Machine Vision – the introduction of English as an international business language, so to speak.