No question – our economy has never been confronted with a situation like the one we are currently facing. The pandemic and the economic crisis are affecting the mechanical engineering and automotive sectors in particular. For a long time now, impending insolvencies in these sectors have no longer been doom and gloom, but bitter reality. The automotive supplier Continental is only the most prominent example.
At the same time, we have been experiencing a steadily ageing society in Europe for quite some time. Younger age cohorts have long since ceased to be as large as the baby boomers who will soon be retiring. The much-invoked shortage of skilled workers thus no longer sounds so unrealistic.
The pressure to innovate is increasing internationally
But as if that were not enough, all of this is directly linked to the constantly growing pressure from globalisation: the Asian region in particular is putting European industry under massive pressure due to its immense innovative power and rapid robotisation.
The World Robotics Report 2020 showed that:
China is leading all other countries with 140,500 industrial robots installed annually. Japan, with 49,000 units, and South Korea, with 27,900, also claim top positions. Nevertheless, Germany follows in fifth place in the global ranking with 20,500 new industrial robots in 2019.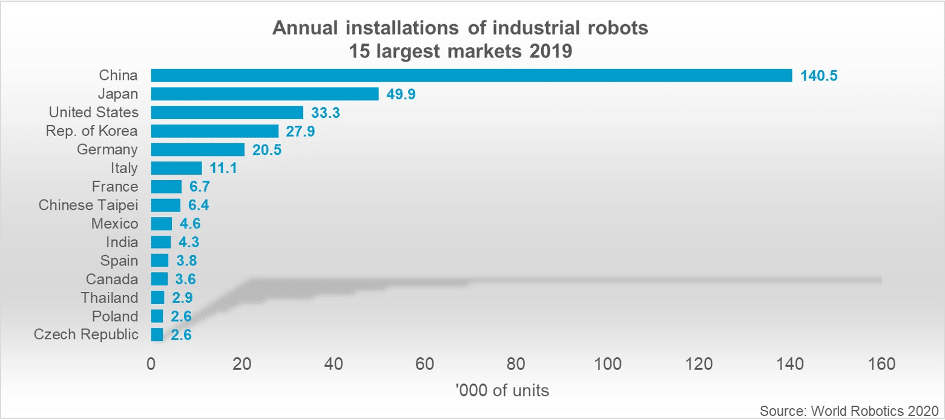 The logical consequence: we adapt to these changes and challenges and automate (even more) to maintain our economic and innovative strength.
No automation without machine vision
But robots alone are not enough for automation. For they do not per se come with eyes or sensors to do their work precisely. This makes machine vision a central part of the automation process.
Today, however, many companies associate Machine Vision with bad experiences: In the past, applications were too cumbersome, the range of functions too small or the complexity too low to correctly recognise demanding parts. Inspection tasks, in particular, could only be solved in a very scaled-down way up to now.
Technological progress opens up new applications
This is where artificial intelligence comes into play:
Today's algorithms and developments enable vision systems to independently perform even demanding quality checks. The latest developments in deep learning and pre-trained neural networks in particular have meant that these systems now reliably produce results – without humans still being able to say exactly how the code they wrote got there. But their success proves them right.
Relief, reliability, revenue
The mere implementation of a single AI-based quality inspection in the manufacturing process relieves employees of the visual inspection of workpieces, a monotonous and tedious task.
At the same time, the quality of the automatically inspected parts increases. Depending on the setup, an AI can achieve up to 100 % detection of problematic parts, while humans – especially in monotonous processes – often only achieve a maximum rate of 70 %.
The use of AI-supported machine vision for a single production step can reduce the costs for the entire workpiece by around 4 to 20 cents. Calculated over a working year with 250 days, this quickly adds up to a quarter of a million euros.
Money that the automating company can invest instead in the further development of its employees, products and processes in order to safely close the gap to the current market leaders.
Consequently, there is simply no way around AI-supported machine vision.