Bin picking of metallic workpieces for BENTELER Automotive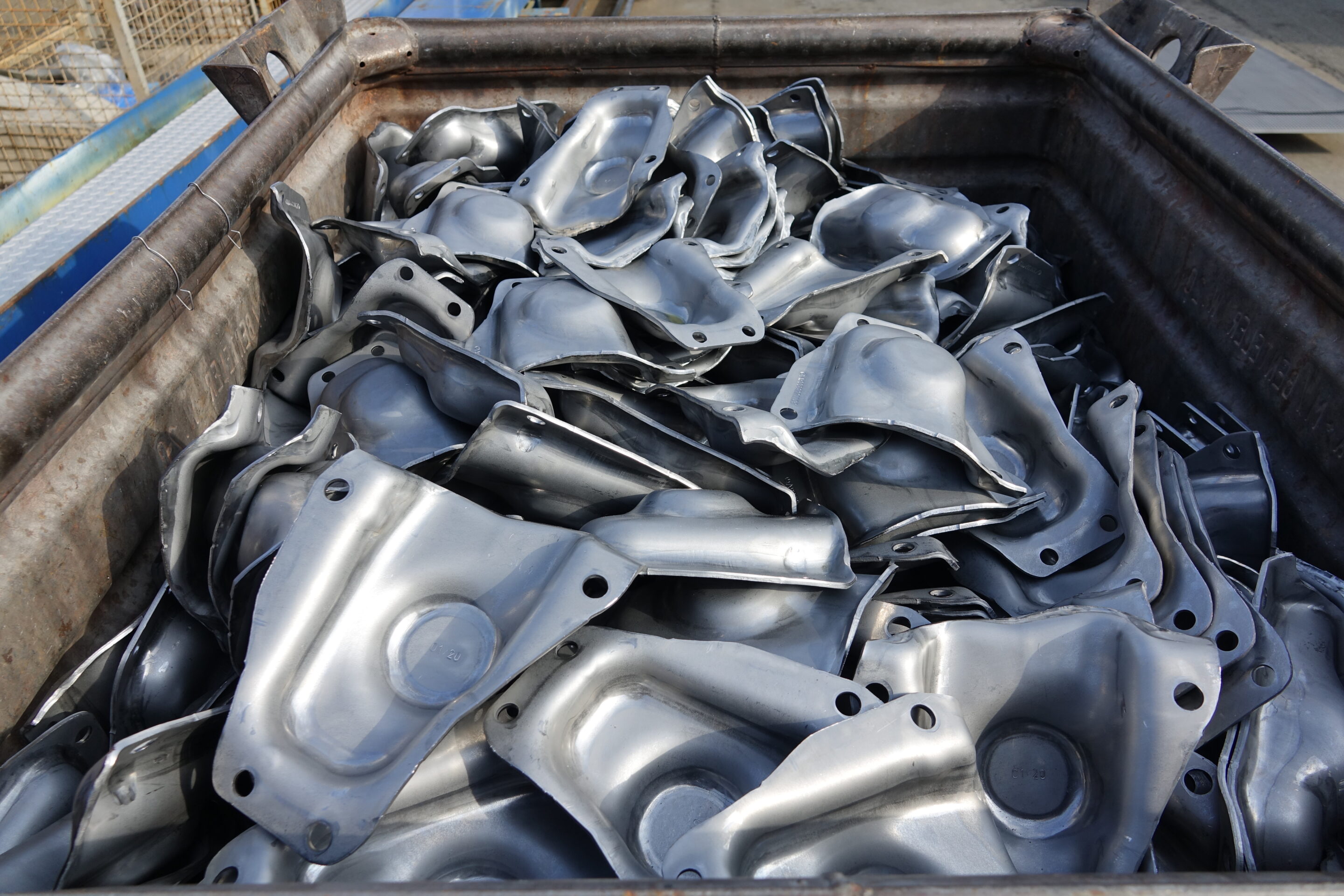 Unsorted, oily metal parts, source: BENTELER Automotive
At BENTELER Automotive, oily steel components are often gripped, for example for axle systems. Machine Vision must be able to detect their gloss without any problems. Another obstacle was the boxes to be cleared out, because they are delivered unsorted. The uneven floor of the load carriers also makes it difficult to distinguish between part and box. Nevertheless, the right parts have to be detected, correctly gripped and deposited in an oriented manner.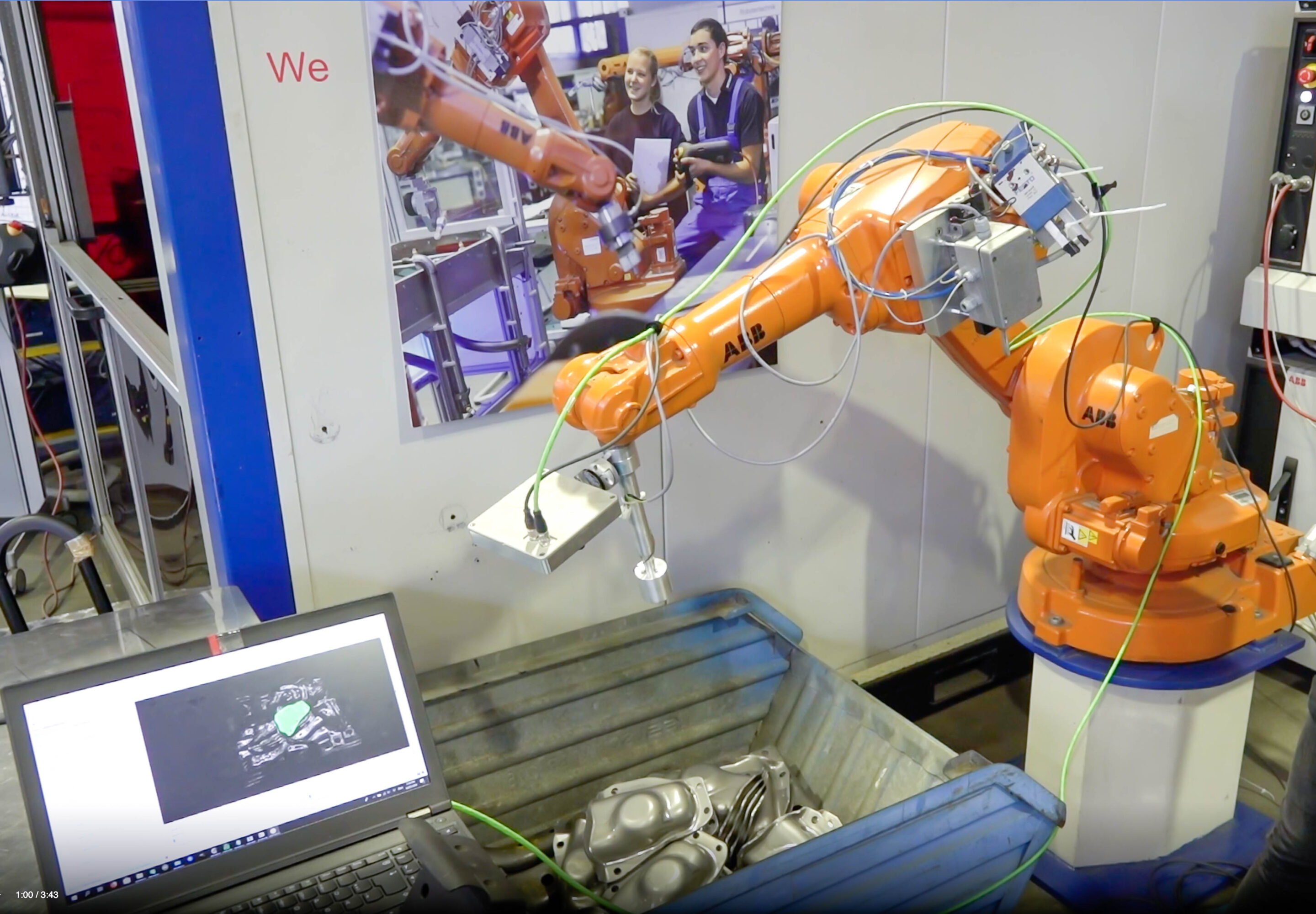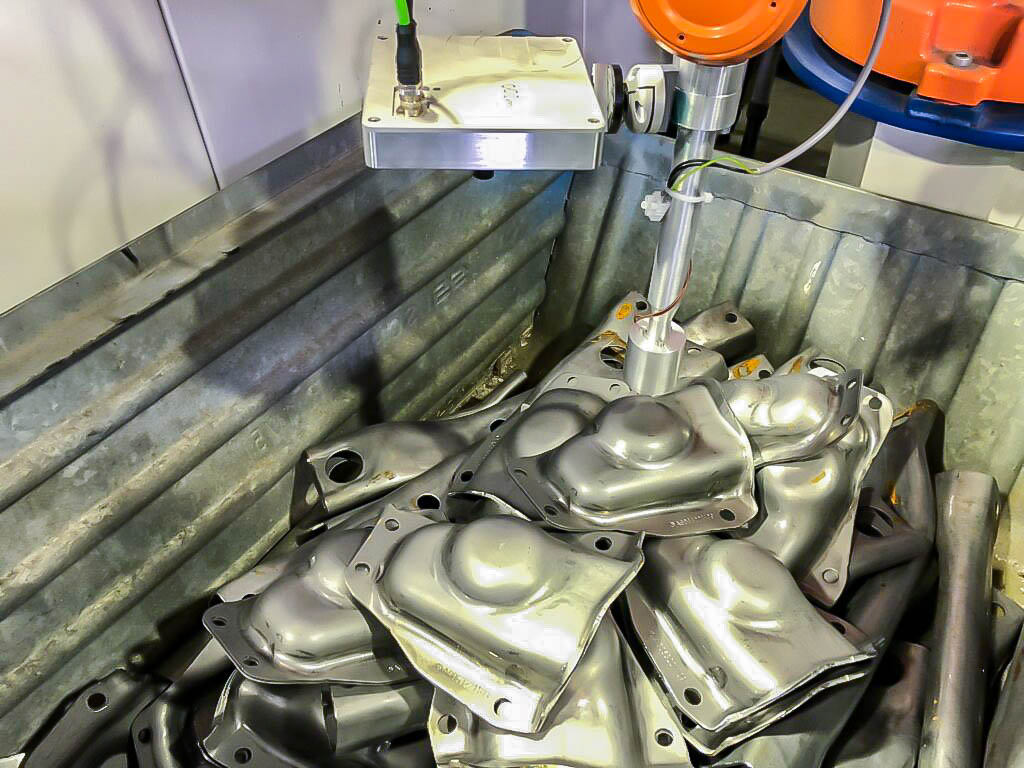 The gripper setup with sensor directly on the robot arm, source: HD Vision Systems
The LumiScan BinPick system, consisting of a sensor and connected software, reliably detects the metallic components and their orientation in real world space in the point clouds. Based on this information, it plans collision-free paths for the robot.
The system forwards the calculated gripping paths directly to the respective ABB robot controller via a predefined interface. The passive system continuously provides the controller with possible paths and objects to be gripped, which avoids standstills in the gripping process. The software simply uses the robot's gripping routine for the calculation.
We are highly satisfied with HD Vision Systems' solution for bin picking in our difficult conditions. For example, even hard-to-see shiny objects in boxes that are not sorted by type are detected with the automated grip. In particular, the speed with which the sensor and software have provided the robot with gripping paths is impressive.
About BENTELER Automotive
BENTELER is a global family business for customers in the automotive technology, energy and mechanical engineering sectors that develops, produces and distributes safety-relevant products, systems and services. The portfolio includes components and modules for the automotive industry in the areas of chassis, body, engine and exhaust systems as well as systems for electric vehicles. In addition, with more than 140 years of experience, BENTELER develops steel, seamless and welded quality steel tubes – from material development and tube application to worldwide trading and related services.